Monday, February 20, 2012
because sometimes you want to eat something with 40 cloves of garlic in it.
Posted by

Jax Soper
at 6:15 AM
No comments:

Thursday, February 9, 2012
i have few addictions. in fact, only two, those being music and coffee. where this isn't exactly a music blog, we're just gonna talk about the drinkable stuff for now. (if you do want to talk music though, head over to
last.fm
)
i've been drinking coffee since i was about 12. it started with heavily sugared and milked cups of my dad's morning brew. shortly thereafter i progressed to Dunkin Donuts (Dunkie's, kehd. medium french vanillah regulah. wicked pissah.), which really isn't much of a progression but when you're 13 you don't know any better. in my high school years, i spent a fair amount of time skipping first period at Bickford's drinking their vile, bitter preparation and eating equally terrible, though fondly remembered, greasy fried food.
it wasn't until after high school that i started to understand that coffee could be just as much a culinary experience as anything else. i suppose the revelation was in line with my growing interest in cooking. i realized that DD was swill. that Starbucks was over roasted. that espresso should never be instant.
and then i got really serious. i got this magical coffee maker:
this video is very much like every one of my mornings for the entire life of this machine. i stood there and watched it. it was like watching a tiny thunderstorm being birthed from the heavens. okay, maybe not that dramatic but god i loved that thing. i was very sad when it died and decided not to replace it. i guess the Bodum people felt the same way because they stopped production on them a few years back. after that i moved on to the
Bodum
french press. the same french press that i currently use and have been using (and against all odds, have not broken) for about 6 years.
so what have i been putting in this workhorse of a kitchen implement, you ask? lots of stuff. but my favorite, the best, the most enlightening coffee i've found comes from Portland, Oregon. from
Stumptown Coffee Roasters
.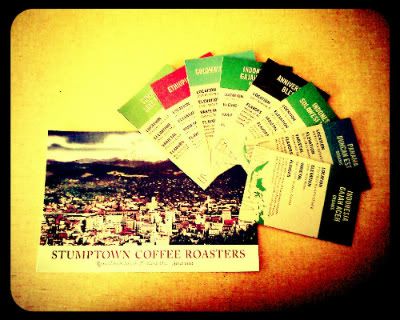 (yes, i save all the description cards from the bags. i'm a nerd.)
everything these guys do makes me happy. simple, unpretentious cafes, perfectly brewed cups, a wide range of varietals all freshly roasted. the offerings rotate, so when you find something you like, either buy a lot of it or don't get too attached because it might be gone when you go back. and don't think you're getting any flavored coffee from these people...you heathen.
you can order online if you can't make it to PDX, or if you're lucky enough to live near one of the very few cafes that carries their beans you can pick it up there. as for the Boston area,
Diesel Cafe
in Somerville and
Thinking Cup
downtown carry them. one more option would be a subscription to
Craft Coffee
, as they regularly include Stumptown in the monthly selections.
and the point of all this? to hopefully inspire at least one of you to seek out well grown, well roasted and well prepared coffee instead of getting your morning jolt from mediocre suppliers. i know it's just easier to go to one of the 12 or so chain coffee shops you likely pass on your way to work, but do yourself a favor, make your morning wake up something to truly enjoy.
Monday, February 6, 2012
Left Hand Brewing Company-Fade To Black Vol 3 Pepper Porter:
"Imagine Robert DeNiro sitting in your darkened parlour near the fire in his Louis Cyphre persona smoking a Tuscan cigar.
This may be the beer with which to save (or lose) your soul. Dried fruit flavors entwined with smoky pepper and licorice embossed on roasty malt sweetness open on your tongue as the slow warmth of chilis creep up on your tongue and throat, finishing in an herbal smoke ring flourish."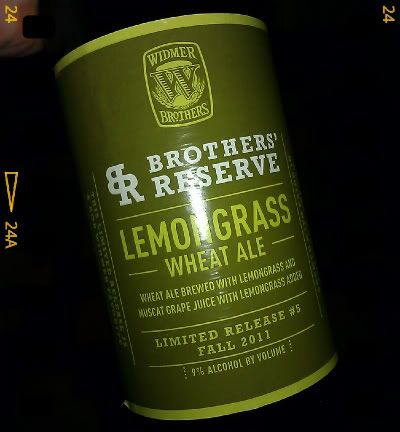 Widmer Brothers Brewing-Lemongrass Wheat Limited Release #5 Fall 2011:
"Lemongrass Wheat Ale is brewed with a unique mixture of malts and Muscat grape juice. This brew has a traditional malt backbone, hints of late harvest grape sweetness, and a distinct lemongrass flavor and aroma. Champagne and ale yeasts were used in tandem to produce a sparkling, crisp, yet fruity profile. Alchemy and Crystal hops balance and compliment the citrus, earthy, and spicy notes of the beer."
blood orange carnage. those became sorbet.
not pictured, yet another slow roasted pork shoulder.